Visual Storytelling: Captivating Your Audience through Powerful Visuals
June 13, 2023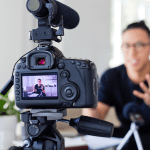 Video Marketing: Engage and Captivate Your Audience with Visual Storytelling
June 13, 2023
Mastering Email Marketing: Strategies for Effective Audience Engagement
Email marketing remains one of the most effective channels for connecting directly with your audience. It allows you to deliver personalized, targeted messages to build relationships, nurture leads, and drive conversions. In this article, we will delve into the world of email marketing, exploring best practices, segmentation techniques, automation tools, and tips for crafting compelling email campaigns that engage your subscribers.
1. Understanding the Power of Email Marketing
Email marketing is a direct communication channel that enables you to reach your audience's inbox, offering a personalized and one-on-one connection. It allows you to deliver valuable content, promotions, and updates, fostering engagement and building brand loyalty. With an effective email marketing strategy, you can nurture leads, drive website traffic, and generate sales.
2. Building a Quality Email List
A quality email list is the foundation of successful email marketing. Focus on organic list growth by offering valuable content and incentives to encourage visitors to subscribe. Avoid purchasing or renting email lists, as they often lead to low engagement and potential legal issues. Prioritize quality over quantity, ensuring that your subscribers have opted in willingly.
3. Segmentation and Personalization
Segmentation is the key to delivering targeted and relevant content to your subscribers. Divide your email list into segments based on demographics, preferences, behavior, or past interactions. By segmenting your audience, you can personalize your email content, increasing engagement and conversion rates. Tailor your messages to address specific pain points, interests, or purchase history, creating a more personalized experience.
4. Crafting Compelling Email Content
Compelling email content is crucial to capture your audience's attention and drive engagement. Write clear, concise, and engaging subject lines that entice recipients to open your emails. Keep the content relevant, valuable, and action-oriented. Incorporate visually appealing elements, such as images and videos, to enhance the visual appeal of your emails. Use compelling storytelling techniques to create a narrative that resonates with your subscribers.
5. Automation and Drip Campaigns
Automation tools allow you to set up automated email sequences or drip campaigns. These campaigns enable you to deliver targeted messages at the right time, nurturing leads and guiding them through the customer journey. Set up triggered emails based on specific actions, such as abandoned cart reminders or post-purchase follow-ups. Automating your email marketing saves time and ensures consistent communication with your audience.
6. Testing and Optimization
Testing and optimization are critical to improving the performance of your email campaigns. A/B test different elements, such as subject lines, CTAs, visuals, and email layouts, to determine what resonates best with your audience. Analyze open rates, click-through rates, and conversion rates to identify areas for improvement. Continuously optimize your email campaigns based on data-driven insights to maximize engagement and conversions.
7. Compliance and Deliverability
Maintaining compliance with email marketing regulations is essential to ensure deliverability and protect your brand reputation. Familiarize yourself with laws like the CAN-SPAM Act and GDPR, and ensure that your emails include a clear unsubscribe option. Monitor email deliverability rates, keep your email list clean by removing inactive subscribers, and use reputable email service providers to enhance deliverability.
8. Analyzing Results and Iterating
Regularly analyze your email marketing performance using analytics tools. Track key metrics, such as open rates, click-through rates, and conversions, to evaluate the effectiveness of your campaigns. Use these insights to iterate and refine your email marketing strategy continuously. Test new ideas, experiment with different approaches, and learn from the data to optimize future campaigns.
Conclusion
Email marketing remains a powerful tool for connecting directly with your audience, nurturing relationships, and driving conversions. By focusing on building a quality email list, utilizing segmentation and personalization, crafting compelling email content, leveraging automation and drip campaigns, ensuring compliance and deliverability, and continuously analyzing results and iterating, you can create effective email marketing campaigns that engage your subscribers and deliver results.
Remember to provide value to your subscribers through valuable content and personalized experiences. Stay updated with email marketing best practices and industry trends to refine your strategies. Test and optimize your campaigns to find what works best for your audience, and make data-driven decisions to improve your email marketing efforts over time.
With a well-executed email marketing strategy, you can nurture leads, drive engagement, and achieve your business goals. Embrace the power of email marketing to connect directly with your audience, build trust, and foster long-lasting relationships that contribute to the growth of your business.
Continuously learn and adapt in this ever-evolving digital landscape. Stay curious, experiment with new ideas, and leverage the latest tools and techniques to unlock the full potential of email marketing in your digital marketing endeavors.