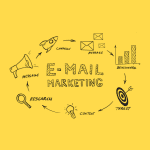 Mastering Email Marketing: Strategies for Effective Audience Engagement
June 13, 2023
Video Marketing: Engage and Captivate Your Audience with Visual Storytelling
In today's digital landscape, video has become an essential tool for brands to engage and captivate their audience. Video marketing allows you to tell compelling stories, showcase your products or services, and establish a personal connection with your viewers. In this article, we will explore the power of video marketing, its impact on digital strategies, and provide tips for creating engaging and effective videos that leave a lasting impression.
The Rise of Video Marketing
Video has become a dominant force in online content consumption. With the proliferation of social media platforms, the increasing popularity of video sharing platforms, and the widespread availability of high-speed internet, video marketing has emerged as a powerful tool for brands to connect with their target audience. Embracing video marketing allows you to stand out in a crowded digital landscape and make a lasting impact on your viewers.
Understanding Your Audience
To create effective videos, it's crucial to understand your target audience. Research their demographics, preferences, and behaviors to tailor your content specifically to their needs and interests. Identify the platforms and channels they use most frequently, as well as the types of videos that resonate with them. By understanding your audience, you can create videos that truly engage and resonate with your viewers.
Compelling Storytelling
At the heart of every great video is a compelling story. Storytelling helps create an emotional connection with your audience and leaves a lasting impact. Whether it's showcasing your brand's journey, highlighting customer success stories, or demonstrating the value of your products or services, storytelling allows you to engage viewers on a deeper level. Craft a clear narrative arc, evoke emotions, and align your story with your brand's values and message.
High-Quality Production
While you don't need a Hollywood budget to create impactful videos, it's important to prioritize production quality. Invest in good lighting, audio equipment, and a reliable camera to ensure your videos look and sound professional. Pay attention to details such as framing, composition, and editing to create a polished final product. However, remember that content and storytelling should always take precedence over production value.
Tailoring Videos to Different Platforms
Different platforms have different video format requirements and audience behaviors. Tailor your videos to suit each platform's specifications and optimize for maximum engagement. For example, on social media platforms, shorter, attention-grabbing videos tend to perform better, while on YouTube, longer, more in-depth content may be suitable. Adapt your videos to fit the platform and user behavior to ensure maximum impact.
Calls-to-Action (CTAs)
Every video should have a clear call-to-action (CTA) that prompts your viewers to take the next step. Whether it's subscribing to your channel, visiting your website, or making a purchase, guide your audience on what action to take after watching the video. Incorporate visually appealing and compelling CTAs to drive conversions and engagement.
Engaging with Your Audience
Video marketing opens up opportunities for two-way communication with your audience. Encourage viewers to leave comments, ask questions, and share their thoughts. Engage with your audience by responding to comments, running contests or giveaways, and encouraging user-generated content. Building a community around your videos fosters loyalty and deepens the connection with your audience.
Measuring Success and Iterating
As with any marketing strategy, it's important to measure the success of your video campaigns. Track metrics such as views, engagement, click-through rates, and conversions to evaluate the performance of your videos. Analyze the data to identify what works and what doesn't, and make data-driven decisions for future video campaigns. Continuously iterate and improve your video marketing strategy based on insights gained from analytics.
Video marketing is a powerful tool that allows brands to engage, captivate, and establish a meaningful connection with their audience. By understanding your audience, crafting compelling stories, focusing on production quality, tailoring videos to different platforms, incorporating CTAs, and engaging with your audience, you can harness the power of video marketing to elevate your digital strategies and drive impactful results. Embrace the power of video marketing and bring your brand's story to life through visual storytelling.