Which Digital Marketing Tactics Would Work Best For Your Business?
July 11, 2022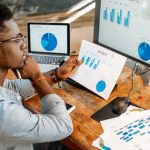 Analytics Insights: The Key to Unlocking Digital Marketing Success
June 13, 2023
The Future is Here: How AI is Changing the Way We Do Marketing
Artificial intelligence (AI) has the potential to revolutionize the field of marketing, offering new opportunities and challenges for businesses and marketers alike. By analyzing and processing vast amounts of data, AI can help marketers understand their customers and target their campaigns more effectively, leading to better results and higher ROI. AI can also automate many tasks, freeing up marketers to focus on strategy and creativity. However, as with any new technology, there are also ethical considerations to take into account when using AI in marketing, such as potential impacts on employment and privacy. As AI continues to advance, it will be important for marketers to stay up-to-date on its capabilities and best practices for using it in their campaigns.
Personalization: AI algorithms can analyze customer data, such as their browsing history and purchase history, to create personalized recommendations and advertisements. This can help marketers target their campaigns more effectively and improve customer experiences.
Customer service: AI chatbots and virtual assistants can handle customer inquiries and provide assistance, freeing up human customer service representatives to handle more complex issues.
Content creation: AI can be used to generate content, such as social media posts or email marketing campaigns, by analyzing past successful campaigns and using that information to create new ones.
Market research: AI can help analyze customer sentiment and behavior, providing valuable insights for marketers looking to understand their target audience and improve their campaigns.
Overall, AI has the potential to make marketing more efficient and effective by automating tasks, personalizing campaigns, and providing valuable insights. However, it's important for marketers to be aware of the ethical implications of using AI and to consider how it may impact their customers and employees.